Personalized Wedding Guestbook Alternative - Choose Star Map, Street Map, or Your Photo
Worldwide Shipping
designed
with meaning
Made for You
---
Love, Laughter, and Happily Ever After
In sunshine or stormy weather, my love for you is forever.
Your love is a treasure I'll hold forever.
May Our Love Forever Grow
Forever Written in the Stars
Our Forever in the Stars
Our Love is Written in the Stars
The Start of Forever
Our Starry Love Story
The Stars Aligned
Starry-Eyed Soulmates
Where Love and Stars Meet
Guided by Stars, United in Love
Stargazing Together, Forever
Where We Said, "I do."
Our Love, Our City
The road to love and adventure
Our Love is on the Map
In the City Where Love Found Us
Here Begins Our Happily Ever After
Quality Craftsmanship in Every Detail
We prioritize both aesthetics and sustainability in our designs. Using FSC-certified materials, we ensure our products last while keeping our planet in mind. Browse the gallery to see our range of eco-conscious, quality options.

Explore our materials
Your Story. Your Style.
Every love story is unique, and your guestbook should reflect your journey and interior style. At Designed With Meaning, we believe in the power of personalization. This magic turns a wedding detail into a keepsake, a guestbook into an enduring work of art. More than a collection of signatures, this is about commemorating a day filled with love, capturing well-wishes, and turning them into a keepsake you can cherish for years. With handpicked mediums and finishes to compliment any interior style, your guestbook becomes an extension of your personality. Your story. Your style. Your day. We're here to help you make it all come to life. ~ Ashley & Eric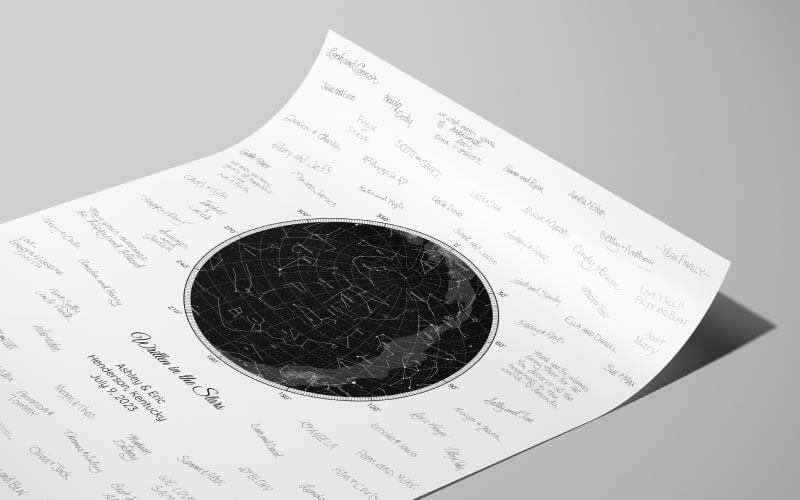 Artist's Note
When my soulmate, Ashley, and I were caught in the whirlwind of wedding planning, every little detail became a canvas to share more of "us." From the vintage handkerchief invitations I screen printed in our basement to the basket of flip-flops offering our guests a night of dancing without sore feet - each contained the experience we wanted to share with our guests. After becoming a self-taught designer, I knew I wanted to help other couples customize the most meaningful details of their wedding days - including this guestbook. You can hang it on your wall to remember the love you shared with each other and every person who witnessed your "I do."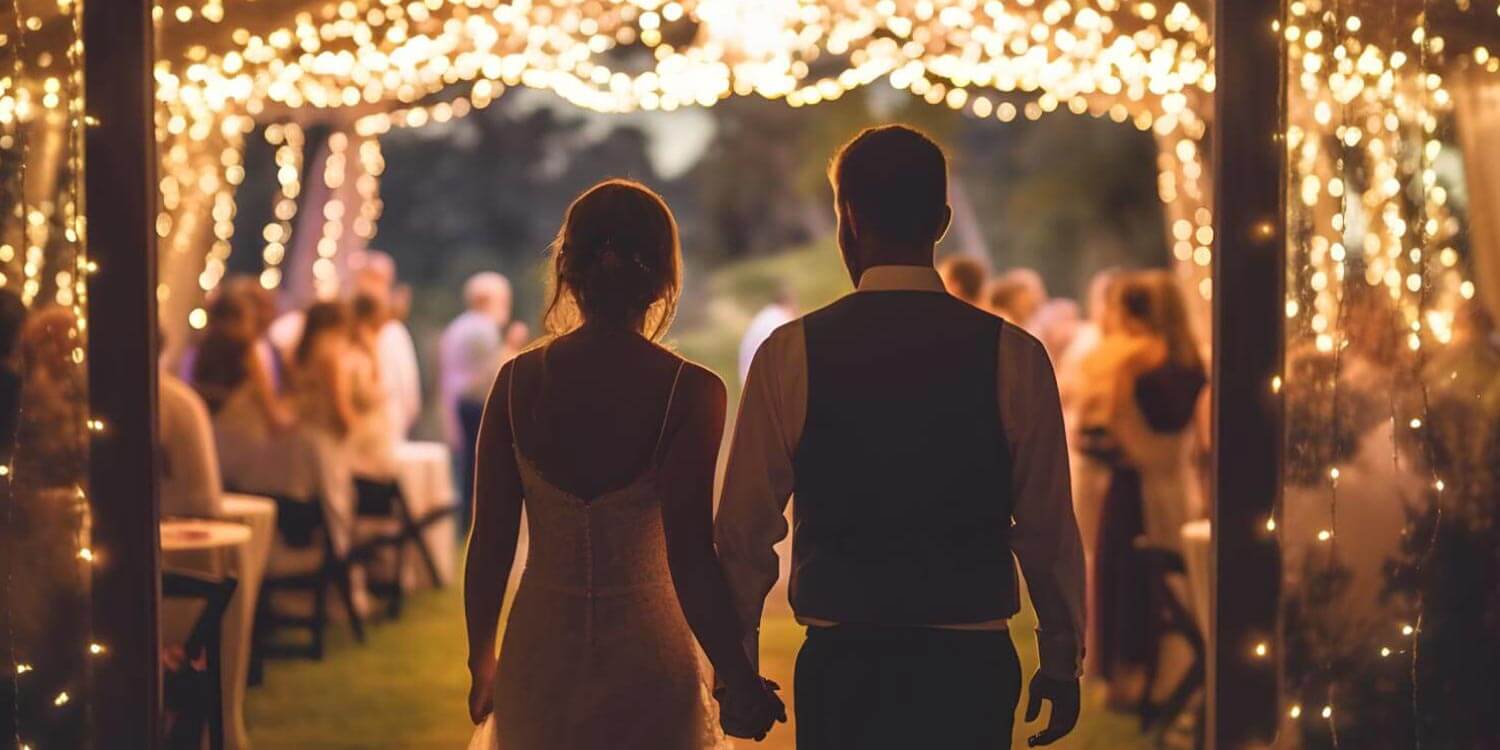 Customers Love Our Designs
Love this beautiful masterpiece!!! It's so special to us and we cant wait to hang it in our new home. Something we can always look at instead of a book stored away.

Kassandra
I ordered this for my daughters wedding as a guest book alternative. I received it so quickly and it was carefully packaged. I am beyond happy with the way they were able to customize the print. My daughter and soon to be son-in-law are going to love it and will have it forever! The customer service is fantastic! They helped me in so many ways!

Marya
This is a beautiful piece! I'm so glad we sprung for the wrapped canvas. It's beautiful and will hold up nicely for 120+ guest signatures over the course of the evening at our reception :D

Erin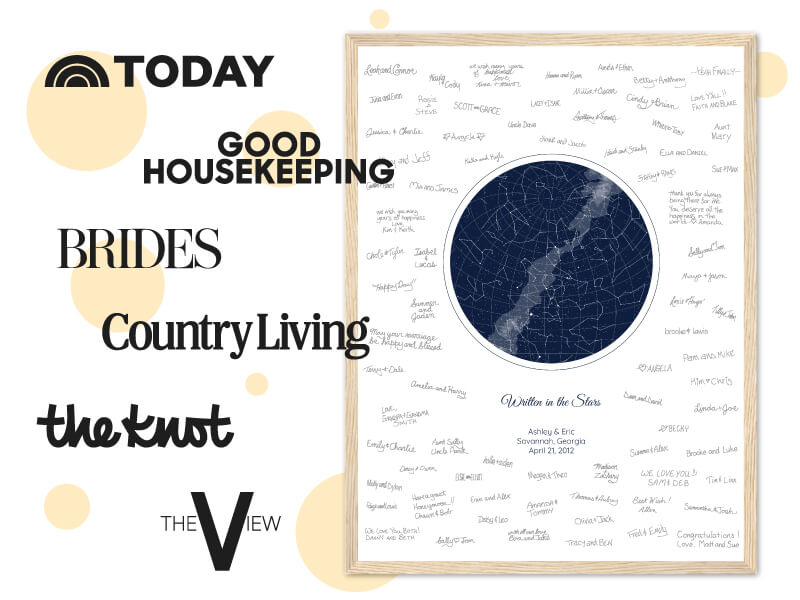 Featured by
Looking to add more unique gifts to your gift guide?
Frequently Asked Questions
18x24 Size: 75-150 signatures 
24x32 Size: 150-250 signatures
The Pilot G-2 Premium Gel Roller Pen, Fine Point 0.7 mm is my favorite archival quality, quick-drying pen. These pens are widely available at most home office stores and big box office supply sections.
For unframed prints, I recommend framing the print but removing the protective glass covering to allow for signing. Laying the guest book flat at your wedding will allow easy signing for guests. After the wedding, you can put the protective glass back in, and it's ready to hang and enjoy for many years to come.
For framed prints, I recommend removing the protective plexiglass covering before the wedding to allow for signing. Laying the guest book flat at your wedding will allow easy signing for guests. After the wedding, you can put the protective plexiglass back in, and it's ready to hang and enjoy for many years.
For canvas prints, I recommend laying the guest book flat at your wedding to allow easy signing for guests.
For hanging prints, I recommend placing the wooden hanging pieces at the top and bottom of your print before signing, to ensure guest signatures are not obstructed by the hangers. Then, lay the guest book flat at your wedding to allow easy signing for guests.
Yes, our site gives a dynamic preview of your personalized guest book as you select your customizations. You can see how your design choices will look on the final product before purchase.
Yes! As the stars follow a predictable pattern in the sky year after year, our astronomy mapping software can forecast where the stars and constellations will appear on your day and time.
Yes, you can select a specific date, time, and location for the star map, making it a unique and personal keepsake from your wedding day.
You can personalize your guest book with custom text and the hand picked choices available for each design (Star Map, Street Map, and Photo). Your design dynamically changes in real-time on the page so you can see your customization before finalizing your guestbook.
It's up to you! There is a place in the personalization area to select whether you want our name and logo to appear at the bottom of your design.
Guest books are available as a print, framed print, hanging print, or canvas print. You can select your preferred medium at the top of the guest book listing.
Guest books come in various sizes to suit your needs. Please refer to the product details for specific dimensions.
We process orders as quickly as possible. Each guest book is made to order. Shipping times will vary depending on your location and the chosen shipping method. You can find more detailed information on our Shipping Information page.
Yes. Rolling the prints helps prevent any creases or wrinkles that can happen during the delivery process. A rolled print in a tube is also more resistant to damage from drops or rough handling during shipping. Also, the tubes are lightweight and compact, which means lower shipping costs and less environmental impact from transportation.
As soon as you notice a mistake in your personalization, please get in touch with us immediately. We do our best to accommodate changes, but once a design has been finalized and sent to production, we cannot modify it.
We stand by our designs and want you to be completely satisfied with your order. If your product arrives damaged or incorrect, please contact us as soon as possible so we can make it right for you.
Because of the custom nature of our products, we cannot accept returns or exchanges on personalized items. However, if there's an issue with your order, please get in touch with us. We're committed to ensuring you're happy with your purchase.