Free Shipping to the U.S.
Personalized Push Pin Maps
Push Pin Maps remind us that there is a big world out there. Are you a National Park lover? Do you prefer exotic locales on different continents? Or maybe an epic roadtrip is your style. We design Push Pin Maps for every type of traveler to inspire you to keep experiencing the places you want to go.
Ashley and Kids at Kings Canyon National Park  
---
---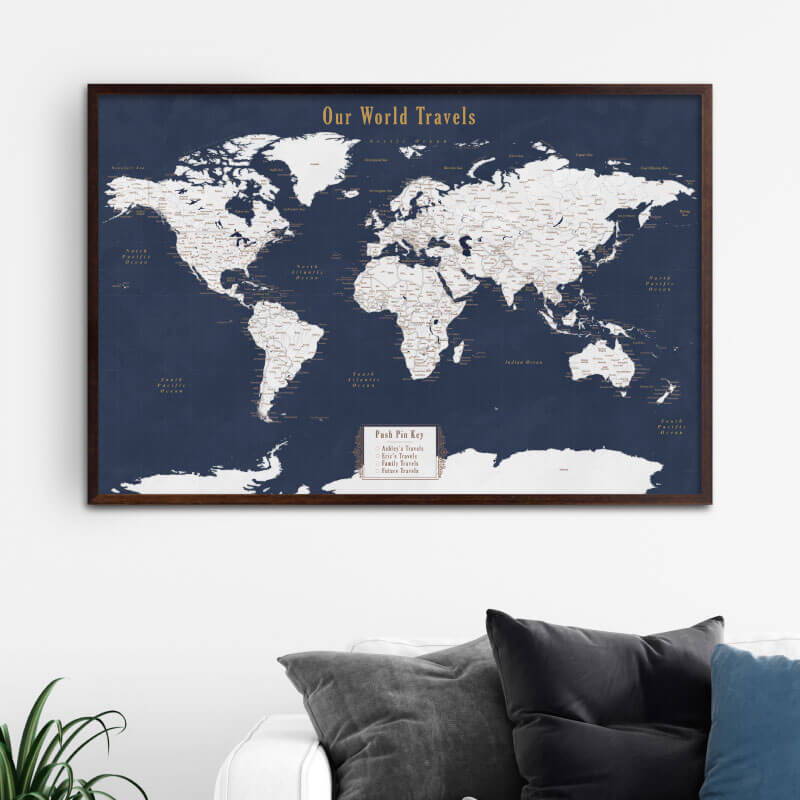 World Push Pin Map - Distressed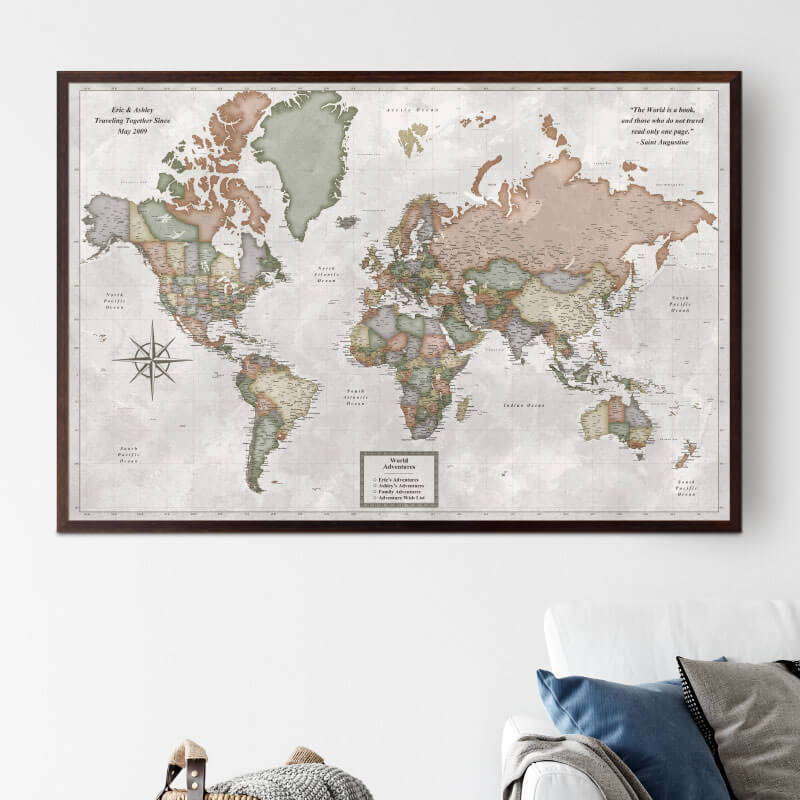 World Push Pin Map - Rustic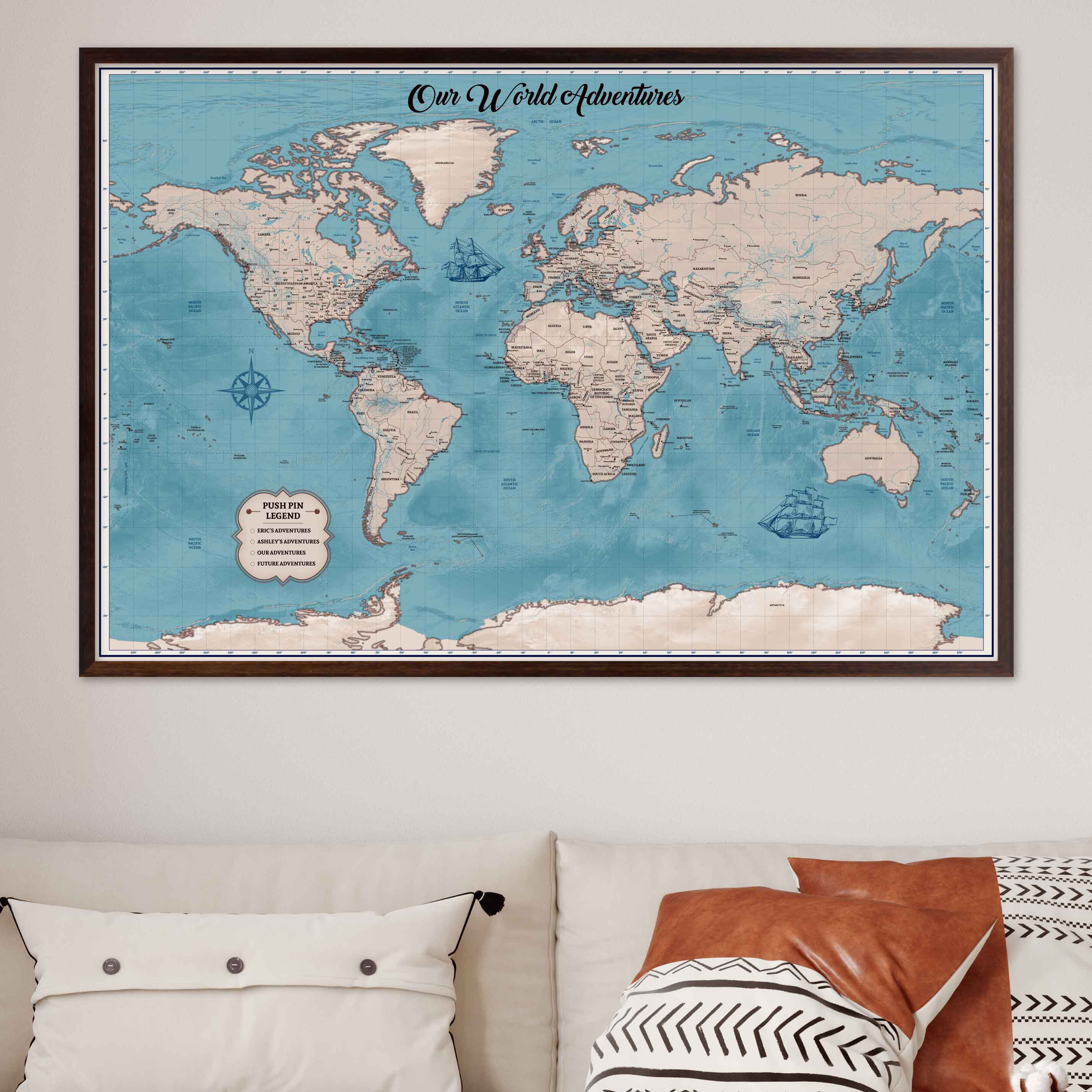 World Push Pin Map - Vintage
---
1. Choose a layout and enter your personalization details
With layouts featuring a variety of color schemes, you can choose the color scheme that best fits your home or office.
2. Review and approve your digital proof
To ensure you love your design before it's printed, you can opt to see a digital proof of your design and request edits before it's finalized for printing.
3. Receive your design within 8-10 business days
Orders are typically delivered within 8-10 business days either 1) after we receive your design approval (if a proof is requested), or 2) after we receive your order if no proof is requested. Upgraded shipping is available on some products.
How We Create Your Design
We start with world and national maps to capture all of the places a person could travel. Next, we work our creative magic to blend the map into different color schemes that would appeal to every type of traveler and a variety of interior design styles. Lastly, the design is made truly yours by adding your personalized text - typically a push pin key, a favorite travel quote, or a family name. All of the text you see in any photo in our shop is customizable just for you.
---
We believe a bucket list is for living, not dying. If you let yourself dream for a moment, where would you go? Every time I experience a new place, I discover a new piece of myself. Travel does that for us - wakes us up and forces us to reflect on the life we are living.
It's easy to get into a routine. And for many parts of life, routines are great. Until the routine becomes a rut. And then years can go by in the blink of an eye and we wonder whether we will have time to see the places we want to experience.
We were inspired to design our line of Push Pin Maps to encourage you to remember the places that make you feel alive, and to be proud of making the time to take your dream trips. We also want you to be inspired to pin the place you want to go next. As you walk by your map hanging on your wall, it is our hope you'll be reminded of your travel goals.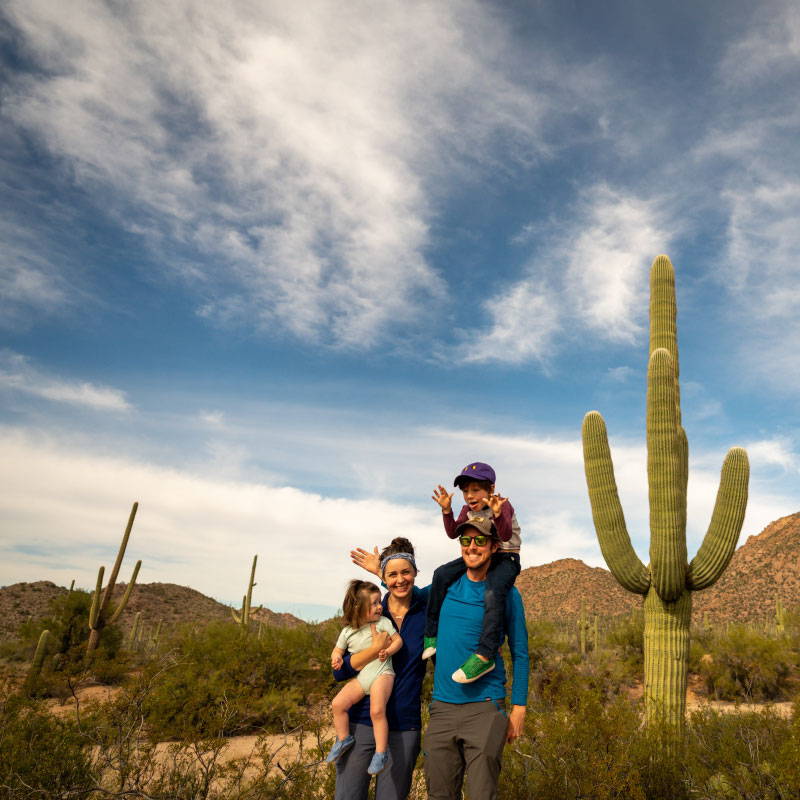 Ashley, Eric and Kids at Saguaro National Park  
Since 2015, we have created thousands of personalized Push Pin Maps for couples, solo travelers, families, and friends. These people have trusted us to create a tangible reminder of the trips they want to take - the experiences they want to have. They also use these maps to remind themselves of the amazing adventures they've already had. For us, this work is our life. We hold your details and stories close to our hearts and work on every order as though we are the customer.